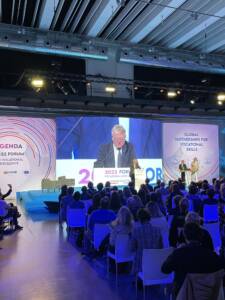 On 15-16 November 2022, TOUR-X participated in the 2022 Forum on Vocational Excellence!
An amazing two-day event focusing on excellence in VET, partnerships, exchanging views, and good practices. The event was organized by the European Commission and the Basque country and it gathered around 300 participants from different CoVE projects and from several parts of the world.
The Conference offered a dense program of plenary and group sessions, and a diverse group of speakers and participants. TOUR-X was there and had the opportunity to disseminate the project's mission and objectives during the Conference and exchange with other CoVE projects.